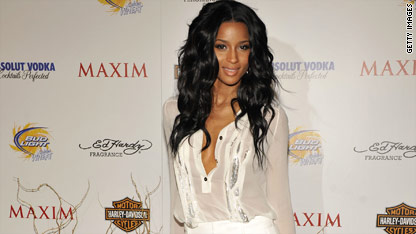 testing captions
Have you seen the video for Ciara's new single "Ride" on BET?
Actually, no one has.
The R&B singer responded to HipHollywood.com about rumors the music video channel had banned the video because it's too racy.
In it, the athletic songstress appears scantily clad and gyrating while singing lyrics such as "They love the way I ride it." The video also features the rapper Ludacris.
Ciara confirmed to HipHollywood.com that BET is not showing her video, and offered a solution.
"If there's a way to edit a version for [BET] I would definitely do it," she said. "My fans have actually given me a lot of support."
Fans have gone so far as to launch a "twitition" calling for BET to reverse the ban on the video.
"We have been recently notified that Ciara's new Music Video "Ride" is not being showed on B.E.T because it's too sexual," says a statement on the fan site Forever Ciara. (Spelling and punctuation are as they appear in the post.) "Note that they play Trey Songz "Invented Sex" [where he is having sex with a woman in the video] Trey Songz "Neighbors Know My Name" [Having sex DIFFERENT woman]."
"I think that B.E.T is over analyzing this or is just being disrespectful to Ciara," the statement continues. "MTV and VH1 is playing "Ride" and so are other stations. What are you B.E.T going to do about this because as a fan and Representative of Ciara you are being UNFAIR!"
Fans are then directed to the Twitter page petition.
BET reportedly earlier banned a video by artist Teairra Mari for being too provocative. In the past, the channel has also been criticized for the sexual nature of some rap videos.
The network did not respond to requests from CNN for comment.