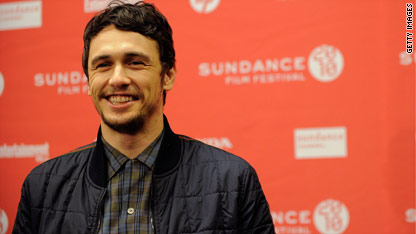 James Franco, clearly vying for the hardest-working-man in show business title, has signed on to two new projects this week, on top of the news of his return to "General Hospital."
Franco is set to star in a "Hangover"-esque comedy picked up by Summit Entertainment called "Ricky Stanicky," a movie about three friends who've spent the majority of their lives blaming everything that happens on a fictional character named (obviously) Ricky Stanicky, and they end up having to hire an actor (Franco) when their wives demand to meet him. He'll also play the scientist in the primate prequel, "Rise of the Apes."
Next we'll be hearing about his starring role in "Human Centipede 2: Even more grossness."
Zoe Saldana, another actor on the 2010 list of Hollywood's most prolific, is in early negotiations to play an assassin in the forthcoming Luc Besson drama, "Colombiana." Scripted by Besson and "Taken" writer Robert Mark Kamen, the movie tells the story of a young woman (Saldana) who, after watching her parents killed in Bogota, becomes an assassin seeking to kill the gangster who murdered her parents.
Ellen Page, who may still be synonymous with "Juno" to you, has signed on to play the lead in a feature-length adaptation of the Oscar-winning short documentary "Freeheld." Page will play Stacie Andree, a New Jersey car mechanic who battles for pension benefits alongside her police detective girlfriend Laurel Hester when Hester is diagnosed with a terminal illness. The script will be written by "Philadelphia" screenwriter Ron Nyswaner.
Lastly, Emma Watson may follow up the "Harry Potter" franchise with the indie coming-of-age tale, "The Perks of Being a Wallflower." The actress is in early negotiations to star in the film along with "Percy Jackson & The Olympians: The Lightning Thief's" Logan Lerman.