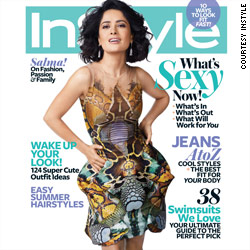 Salma Hayek Pinault made headlines last year when she stopped to nurse a baby during a goodwill trip to Sierra Leone.
Everyone else was taken aback by her impromptu breastfeeding, but Hayek Pinault told InStyle that she "didn't think much of it," and "was so surprised how much attention it got."
"This baby was hungry and I was still nursing [my daughter] Valentina, so I fed the child," Hayek Pinault said. "What was shocking were the hate letters I received. What offended some in particular was that I breast-fed a black child. It was not even in my universe, such a thought. For me, it was a baby who was just born and was hungry. He was healthy but malnourished at this hospital – it was really just a clinic in the countryside – and I was able to help."
But Hayek Pinault already knows she doesn't think the same as everyone else. Unlike others in her industry, the actress isn't interested in getting any surgical tweaks, or even Botox – and she can raise her eyebrows to prove it.
When it comes to married life, Hayek Pinault said her husband, the wealthy Frenchman François-Henri Pinault, has made it easy for them to be in love despite any potential cultural differences. "He's so open, and his family is too – so international - and fascinating and warm," she said. "I only speak French to his children. I don't know how, but they understand my French. Plus, he and I have the same interests, which is wonderful. Like soccer."
Realizing how happy she was in this phase of her life is also what led her to change her name to Hayek Pinault.
After Valentina asked Hayek Pinault why she didn't have François-Henri's last name on the back of her on-set chair along with "Hayek," the actress said to herself, "This is who I am now. I am starting a whole new life. I've never been happier. Why shouldn't I share it with people who have been supporting me my whole career, who have been with me since the beginning?"
It's true she's a private person, Hayek Pinault went on, "but I should let them in on the fact that I'm a different person, a better person. It's a new life."
To read the full interview, pick up InStyle's June issue, on sale May 21.