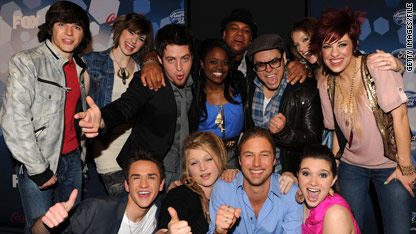 testing captions
The ratings aren't the only thing down this season on "American Idol."
When Ryan Seacrest announced on Wednesday night that more than 47 million votes had been cast to decide who would be heading to the finale from the trio of Crystal Bowersox, Lee DeWyze and Casey James, the number may have seemed astronomical.
Until fans remember that last season's Top 3 garnered 88 million votes.
Lots of viewers have complained that this season has been lackluster. In the ratings, the show has even lost an occasional night to ABC's "Dancing with the Stars."
"Idol" has always tightly guarded vote tallies – for instance they never announce X contestant received X amount of votes – but fans may remember that last season Seacrest announced that only 1 million votes out of 88 million separated Kris Allen from Adam Lambert when the pair made it to the top three, along with Danny Gokey.
Allen ultimately won in a victory that was hotly contested by Lambert fans.