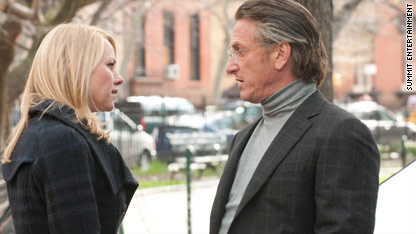 Conservatives will likely take issue with the latest film to premiere here in Cannes, but liberals may think it's the best thing since sliced bread.
The movie in question? "Fair Game", which tells the story of Valerie Plame and her husband, former Ambassador Joe Wilson. Plame is the former covert CIA operative, whose identity was allegedly leaked by the Bush Administration after Wilson publicly criticized the President's use of faulty intelligence to justify going to war in Iraq.
The film, starring Naomi Watts as Plame and Sean Penn as Wilson, holds its official premiere tonight, but I dropped by an earlier screening, and I think this film has potential Oscar nominee written all over it.
The movie, from director Doug Liman, paints a devastating portrait of Administration efforts to convince the public before the invasion that Iraq possessed weapons of mass destruction, but it doesn't come off as a history lesson. The film focuses on the emotional toll on Plame and Wilson after the Administration and Vice President Cheney's chief-of-staff Scooter Libby worked to discredit Wilson.
"Fair Game" is a classic "little guy against the system" movie, the kind of story Hollywood is adept at telling. Of course, members of the Bush Administration - from former National Security Adviser Condoleeza Rice to former political adviser Karl Rove - won't see it that way (Rove wrote in his recent book, "Courage and Consequence", "Did President Bush lie us into war? Absolutely not." This is an implicit rebuttal of Wilson's allegations).
It may be easier for conservatives to dismiss the film because it co-stars Penn, whose left-leaning political sympathies are well known.
But in Hollywood, which of course is much closer to Penn than Rove in its politics, I think the film will go over well, and I can see it even nabbing an Oscar nomination for Best Picture.
By the way, no U.S. release date has been set for the film yet, so it may be a while before the American public gets to see it.