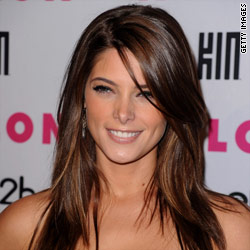 Want to be Robert Pattinson's girlfriend? (C'mon, who doesn't?)
Well if you do – and assuming he really isn't dating his "Twilight" co-star Kristen Stewart – there may be a small problem.
According to co-star Ashley Greene, the Brit – who has to fight off legions of female fans near and far - just "doesn't understand girls."
Greene, 23, said she's probably the only woman who has yet to fall for him in the June/July issue of Seventeen magazine.
"When I met Rob, I didn't think twice about him. He's really attractive, but that chemistry wasn't there," she said.
"He gets a lot of attention from them, but he doesn't quite understand it because before 'Twilight,' he was just a guy from 'Harry Potter,' " the actress added.
Pattinson may not be crush-worthy for Greene, but perhaps another co-star is?
The magazine asked if she'd ever hooked up with actor Kellan Lutz, who plays her brother in the vampire saga.
"I've definitely thought about it," she said.
(Again, who hasn't?)
Don't worry Lutz fans, the two are just best friends; they've known each other for five years.
"Filming together has made us even closer … but if we were going to be romantic, we would have done it years ago! I like having him to talk to about other guys to get that male perspective," she said. "I really cherish our relationship, so I wouldn't want to mess that up by dating."