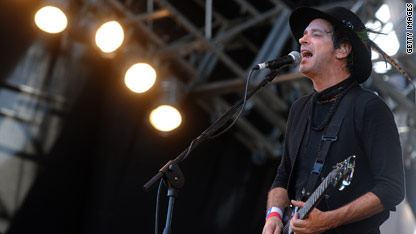 Argentine rock star Gustavo Cerati remained in critical but stable condition following brain surgery for a "mini-stroke" he suffered over the weekend, his doctors said Thursday.
Cerati, whose former band Soda Stereo is among the best known rock bands from Latin America, was in an induced coma at a Caracas, Venezuela, hospital.
"At the moment there is no evidence of neurological deterioration compared to yesterday," hospital director Adolfredo Saez said. "His other organs and systems are functioning normal. Like we have said, his situation is critical."
Reporters asked Cerati's doctor, Vladimir Fuenmayor, if the singer had normal brain activity, but the doctor declined to answer, only saying that he was stable.
According to the 50-year-old musician's website, he suffered a transient ischemic attack, commonly known as a "mini-stroke" after performing in Caracas on Saturday.
On Tuesday, Cerati underwent brain surgery to prevent swelling and damage to the brain, doctors said.
"Gustavo is in delicate condition, but there has not been a regression in the evolution of his problem, to the contrary, there has been an improvement," Cerati's mother, Lilian Clarke de Cerati, told CNN en Espanol Thursday.
Argentinian doctors were scheduled to fly in Friday or Saturday to Caracas to care for Cerati and see about when he may be transferred back to his home country, Clarke de Cerati said.
"I have great faith" in his recovery, Cerati's mother said.
The incident affected his brain, which is his strongest part, besides his heart, she said.
The Cerati family was impressed by the amount of outpouring of support from around the world, Clarke de Cerati said.
Cerati showed no visible symptoms of anything wrong before this weekend, his mother said, but she added that he smoked a lot.
Another Argentine singer, Diego Torres, also noted that Cerati was known for his smoking habit.
"It surprised me a lot," Torres said. "When something like this happens to a colleague it touches an intimate thread because one lives that life, a life of travel, one from stage to stage."