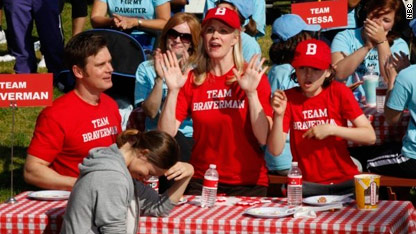 There's no subtlety with the episode title this week: "Team Braverman" is all about the family bonding and supporting each other, and the Bravermans' multi-generational problems are putting some serious strain on those bonds.
It's been well-established that the Braverman family keeps secrets from each other, but there's a big one that Max doesn't know.  He's excited about the whole family participating in an Autism Speaks fundraiser, yelling out at the family meeting, "Let's walk for those kids with autism," and everyone is surprised that Max doesn't know he's one of those kids.
He was diagnosed weeks ago; they've changed schools and made all kinds of changes, but Kristina and Adam haven't told him yet.  Kristina talks to Dr. Pelikan about it, and it turns out it's not necessarily wrong or bad that Max doesn't know.  The doctor says Max will let them know when he should know.  Neither Kristina nor Adam find that helpful or comforting, but they go with it for now.
Jasmine and Crosby are having an adult sleepover and Jasmine hurts her back, days before an audition with the Alvin Ailey Dance Theater.  While he's taking care of her, he realizes the group is based in New York.  Not sure where he's been - like Jasmine says, everyone knows that.  Crosby begins to realize that his son could disappear from his life just as quickly as he showed up.
Haddie and her girlfriends go all mean girls on Amber over the boyfriend incident.  The cousins end up rolling around on the soccer field.  When their parents show up to pick them up from school, Amber and Haddie get into another screaming match, and Haddie tells everyone what happened.  It's a horrible scene.
Adam ends up caught between his sister and his wife after someone paints "whore" on Amber's locker. Sarah thinks Haddie had something to do with it, and Kristina can't believe they're worrying about Amber after how she betrayed Haddie. There are tensions between Adam and Sarah; how could there not be?  It's easy to side with your kid against someone else's kid, but what do you do when that someone else is your own sister? 
It doesn't help that Sarah clearly still has issues about keeping up with what she sees as her perfect big brother.  Haddie tries to put a stop to her friends harassing her cousin. After a lunch table incident, she follows Amber, only to find her kissing her ex.
The hilarious storyline of the night has to do with Julia once again trying to impress the moms at Sydney's school.  There's a group called the Angels that helps out school families with medical emergencies.  Julia goes to her mom for a soup recipe, and Camille knows she didn't decide to sign up on her own to help out; Joel put Julia on the committee.
Apparently the recipe didn't work out, 'cause we see Julia in her car, dumping several containers of store-bought soup into a large pot.  She takes it to the sick mom, who's not exactly sick. She had an elective breast enhancement and is quite proud of herself, making Julia touch her new and improved girls. 
Julia didn't get away with the soup thing either, but for Joel's sake, she actually does make soup for the recovering mom (which is more than I might have done). Of course it's serious surgery, but really, requesting home-cooked food from people who could be doing better things? After a minute of listening to her whine Julia tells her as much, but she slips and also tells the woman about her parents splitting up; the two end up bonding over failed relationships.
What did you think about the episode?  Do you think Sarah and Adam's sibling issues are clouding their judgment about how to deal with their girls?  Let us know what you think!