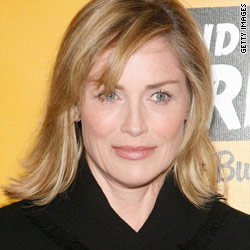 Sharon Stone is boldly going where few Hollywood actresses dare to go: she's owning up to having plastic surgery.
The bombshell actress told More magazine that following her 2004 divorce from San Francisco newspaper editor Phil Bronstein, she felt insecure about her looks.
"Nobody loves me. I'm 103. My life would be better if I had better lips," she said in the interview. She had something - the name of which she can't quite remember - pumped into her bottom lip.
How did she feel about it?
Well to be frank, like asking, "What the hell?" Stone added that her lips became so plump they didn't match, and even lip gloss wouldn't stay on. She said she looked "like a trout," and promised never to get plastic surgery again.
Apparently, there's no need for it. She's quite the cougar-catch.
"I really get pursued by men in their 20s, like, a lot," she said before joking, "They probably know there's food in the fridge and that somebody's going to talk to them and ask them how their day was."