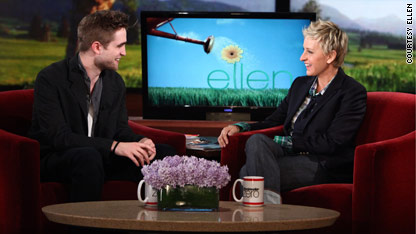 Robert Pattinson, renowned for having a nice healthy head of suggestively messy hair, has lopped most of his long locks off.
Pattinson revealed this new look on "Ellen" Wednesday, and told host Ellen DeGeneres the reason for the cut was because he'd had a terrible infestation of nits (lice, to us Americans) and he had to shave it all off.
Oh, ha, just kidding. There's that Pattinson humor again (need we remind you of the "I hate vaginas" quote?).
It's an issue the 24-year-old actor is aware of; he admitted to DeGeneres that he has trouble pausing to consider his words before unleashing them.
The reason he likes acting is because he likes "doing things where you have a little time to think about what you're saying," he said. "I've always had a problem with actually thinking before I open my mouth." Actually, he went on, "I have a problem with thinking…[just] thinking in real time."
The three-days-old haircut really came about because Pattinson will start shooting a new movie on Thursday in Los Angeles, based on the book "Water for Elephants," which also stars Reese Witherspoon.