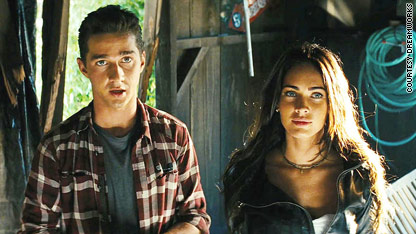 Considering what she told Entertainment Weekly about "Transformers: Revenge of the Fallen," we're willing to bet Megan Fox isn't crying too many tears over losing her spot in Michael Bay's third installment.
A rep for Paramount confirmed to CNN that Megan Fox won't be back to reprise her "Transformers" role of Mikaela Banes for a third time.
So did she want a third movie? "Sure," Fox told EW. "I mean, I can't [expletive] on this movie because it did give me a career and open all these doors for me."
But, she went on, "I don't want to blow smoke up people's [expletive]. People are well aware that this is not a movie about acting. And once you realize that, it becomes almost fun because you can be in the moment and go, 'All right, I know that when he calls Action! I'm either going to be running or screaming, or both.'"
Huh. Well then – any ideas for who should be cast in her place?