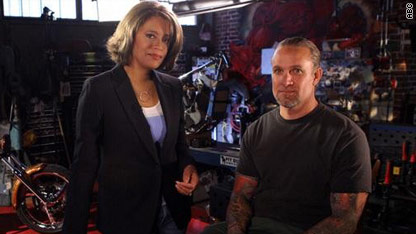 After weeks of the Greek (media) chorus asking anyone and everyone, "Who in the world would cheat on Sandra Bullock?" her estranged husband is ready to provide some answers.
Former reality TV star Jesse James will finally open up on ABC's "Nightline" on Tuesday, giving some insight into what happened in his marriage to America's Sweetheart.
James is also expected to share the reason why he went to rehab and what role he wants to have in baby Louis' life.
This is James' first television appearance since allegations of his infidelity first surfaced in March. At the time, James issued a public apology to his wife and kids, stating that "the vast majority of the allegations and rumors are untrue."
However, James added, "There is only one person to blame for this whole situation, and that is me. It's because of my poor judgment that I deserve everything bad that is coming my way. ... This has caused my wife and kids pain and embarrassment beyond comprehension, and I am extremely saddened to have brought this on them. …  I hope one day they can find it in their hearts to forgive me."
However, on April 28, the same day that Bullock revealed she'd adopted a son from New Orleans, news hit that Bullock was seeking a divorce.
Set your DVR for 11:35 p.m. ET on Tuesday, May 25.