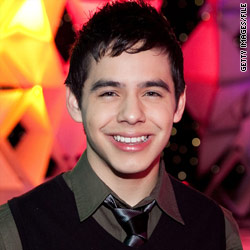 He hasn't lived a very long time, but that hasn't stopped David Archuleta from writing his memoir.
"Chords of Strength" goes on sale June 1 and tells the story of the life, thus far, of the season seven "American Idol" runner up.
A press release about the book says that in it, "David shares with readers the amazing journey he went through to prove himself, and what he learned about life and faith along the way."
"Arch," as friends and fans call the now 19-year-old, started singing at a young age. At age 11 he appeared on "The Jenny Jones Show" and by 13 he performed on "Star Search."
He was 16-years-old when he made it all the way to the final two on "Idol," a standing which won him scores of adoring fans.
He displays plenty of love in his book for the show that introduced him to the world, and says he is grateful for the opportunities he found thanks to "Idol."
"I was harder on myself than the judges ever were," Archuleta said. "I thought I'd be lucky if there was one person out there watching on TV who might be affected in some tiny way by my singing. If I could accomplish only that, I've done my job."