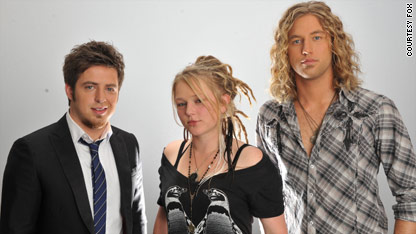 testing captions
SPOILER ALERT!!! Tonight's blog entry will reveal the contestant being sent home from "American Idol." Don't read any further if you don't want to know the results.
9:55 p.m.– That was completely anti-climatic.
Seacrest lets us know that joining Lee will be ....
MamaSox.
The delivery was kind of strange, and she even has to ask: "Am I safe?"
You are MamaSox.
Casey sings us off and grabs an adorable child from the audience as he warbles "Daughters."
Peace out Cutie Casey.
9:53 p.m. – Dim the lights, and here we go.
Lee is looking somewhat confident for once. And he should as the first person in the finale is ...
Lee. No shocker there.
9:46 p.m. – Bieber fever hits "Idol!"
He sings "You Smile" and "Baby," and it looks like to me he can barely reach the microphone. Cue the tweens, their sisters and mamas singing along.
Twitter is probably blowing up right now!
I half expect to see Seacrest in the front row screaming. He loves him some Bieber.
I can't even front. I've got a mild touch of the Bieber fever. His songs are so durn infectious that I can't help myself.
When he jumps on the drums, I sound like how my grandma did back in the day at Whitestone Baptist Church when I yell out "Go head do your song baby!"
I am so gonna get joked by my co-workers tomorrow.
9:37 p.m. – Seriously, I feel like Lee has a "paint store complex."
No sooner does he land in Chicago that he starts talking about having worked in that paint store. I get remembering where you come from, but I swear not a week goes by that we don't hear about it.
There he is at the baseball stadium and his elementary store. But what really brings him to tears?
Yep, visiting the paint store. Those roots run deep.
I love his home town performance and that he breaks down. That causes his parents to break down.
I am running out of tissue over here!
9:33 p.m. – Wow.
The local media met MamaSox when she landed in Toledo, Ohio. She looks like she is having a blast greeting her fans.
The mayor of Toledo looks like he is about to hop on a motorcycle and take off. And you know who is really praying she sins? That guy who said he's going to tattoo her autograph on his chest!
"Bowerstock" looked like it was a success. Loved the look on her face when she said "Home sweet home."
Her song "Holy Toledo" was pretty cool. She, too, is in tears. Tonight is super emotional.
9:23 p.m. – Looking forward to seeing the "Idol" gang on "The Simpsons."
Well, hello Perez Hilton. He loves music, and he has thrown his support behind singer Travis Garland. I see why when I watch Garland perform his song "Believe."
Travis reminds me of an edgy Osmond.  Love the drums, but could they have anymore people on stage? I keep losing sight of Travis.
And is there ANYONE not being discovered online these days?
9:15 p.m. – We are treated to Casey's hometown visit, and Texas is going nuts over this dude!
Looks like the entire town turned out to Millsap High. That one lady that had him sign her pet freaked me out a bit.
You just have to know that in that crowd of people is some chick who turned him down for a date.
Love that Casey went to the hospital that treated him and saved his life. He gets a little teary eyed when he gifts them with an autographed guitar.
What a sweetie he is!
9:13 p.m. – What would our night be without the music video/commercial.
Singing drawings? Very A-Ha of you "Idol."
9:06 p.m. – Seacrest asks Lee DeWyze if he wants to win.
Well, duh!
I'm trying to drink in the sight of Casey James because I think I won't be seeing him much of him after tonight.
The "Idol" contestants are stressing how busy they are. I can imagine they are hearing from elementary school friends who now want to be homies for life.
Crystal "MamaSox" Bowersox gives the show a shout-out for getting her good health care. She says she is the healthiest she has ever been so good for her.
9:01 p.m. – Oh Lord.
Ryan Seacrest is "getting into the contestants' heads."
The mind games begin.