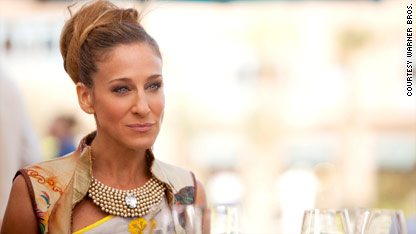 There's a new accessory on the "Sex and the City" block.
When the film's sequel comes out on May 27th, fans won't see Carrie Bradshaw (Sarah Jessica Parker) tinkering on her Mac laptop; she'll be working on a Hewlett-Packard instead. It looks like HP has outbid Apple, and all of the computers featured will be HP.
That Mac was iconic – it was as familiar as a Manolo Blahnik shoe - and even served as a kicker in the series finale on HBO when her pal Charlotte York-Goldenblatt (Kristin Davis) found it on her bed, when she moved to Paris, a metaphor that she'd truly left her old life behind her. The horror!
Apparently, it's one of quite a few product placements in the forthcoming "Sex and the City 2," and could be one of a few items that single girls everywhere will be trying to get their well-manicured hands on.
The New York Post reports that "every aspect of Carrie's life is reduced to a vignette that can be monetized: Going to the Gym (sip on Lipton Sparkling diet green tea, an official sponsor of the new movie!), Having Cocktails with Girlfriends (try a specialized cocktail from Skyy, the movie's 'official vodka'!), Getting Married (Swarovski paid to be featured prominently in the film) and, of course, Working On Laptop, Staring Wistfully Out the Window (Hewlett-Packard partnered with the movie so its laptops would be featured, and SJP will appear in the computer company's ads.)"