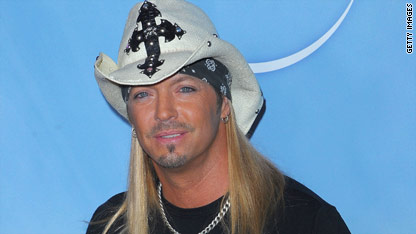 In his first television interview since he was rushed to the hospital on April 21 after suffering a brain hemorrhage, Bret Michaels revealed on "The Oprah Winfrey Show" that he kept his trademark bandana on the entire time.
"I said, 'If I'm going out, I wanna go out rocking,' " Michaels told Winfrey via satellite from Phoenix, Arizona. "Leave the boots on [and] some form of a bandana…Not that hospital gown." (In one photo Winfrey showed of Michaels in his hospital bed, he was indeed wearing his bandana – he was also topless.)
But perhaps Michaels needed that little fabric square of normalcy; his world had been turned upside down in the blink of an eye, and we're not just using a cliché here. Michaels was at home with his family when he felt something explode in his head, something that "felt like a pop," he said. "They call it a thunderclap, and I've never instantaneously had a headache like that in my life. It wasn't even a headache, more like a migraine times ten. It exploded instantly and ran from my temple to the back of my skull."
And while he didn't exactly see his life flash before his eyes as he was being treated in the hospital, Michaels did think immediately of his two daughters and his girlfriend, Kristi.
"I just asked God, you gotta let me live through this. God may have talked back; I was doing a lot of asking at that point, [saying] I know I've done a lot of rotten things, I need you to cut me a break here. If you cut me a break I promise I'll do better," Michaels recalled. "I wasn't prepared for it. It puts things in perspective so quickly. Your immediate family, your kids, your best friends – you're not thinking about anything else."
His daughters were thinking of him too – Winfrey included an interview with Michaels' 9-year-old daughter Raine, who described what she was thinking when her father was in the hospital.
"The scariest part was thinking that my Dad could die tonight, so all these memories were flashing through my head of him," Raine said. Memories of "being on stage with him for the first time, singing into the mic with him for the first time, playing basketball with him…to think that my Dad wouldn't grow up with me and walk me down the aisle, it was just really heartbreaking."
Which of course caused Michaels to shed some tears, but it went without saying that he was incredibly grateful to be around to hear what she was thinking at the time. Winfrey asked Michaels if he thought he had received a second chance at life, and he quickly agreed.
"I don't know what the reason is just yet," Michaels said, "but I'll say this: whoever blessed me, whatever guardian angel I have, I'm very thankful to be here."