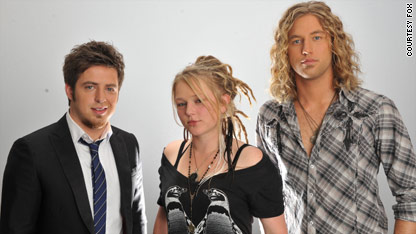 testing captions
8:51 p.m. –
Wait, how come we didn't see anything of Lee's hometown visit?
Are we running short on time or did no one show up? That was weird.
Simon chose "Hallelujah" for Lee, and there's the mini-choir! "Idol" uses any excuse to trot out a choir, I swear.
Lee just had the closest thing to a "moment" this show has seen tonight. I felt cheated on the last note though cause he pulled away from the mic like he was about to pass out.
We will see you, like, next week Lee.
8:41 p.m. – Hey, Colin Hanks looking just like your daddy, Tom!
He and co-star Bradley Whitford are in the audience to pimp, umm, I mean represent, their new Fox show "Good Guys."
MamaSox sings Ellen's choice for her, Sir Paul McCartney's "Maybe I'm Amazed." Love the performance, but it was disconcerting to hear her keep singing "Maybe I'm a man ... "
That messed me up a little bit.
8:30 p.m. – How did they figure out what judges picked what songs for which contestant? Did they draw straws?
Randy and Kara picked John Mayer's "Daughters" for Casey, and I get that it's supposed to make him even more appealing to the young, female voting demographic (is that even possible?), but it was too sleepy for me.
I liked the guitar playing and that has always been Casey's wheel house. It was sweet and yet not enough for me to make me yell at the TV, "That's our American Idol right here."
Frankly, I found the judges arguing at the table more exciting than Casey's performance.
If I were Casey, I would be annoyed right now with Randy and Kara for picking what felt like a swan song.
8:21 p.m. – Lee DeWyze says he wanted to bring some of the energy from his home town visit back with him to the show.
The words "energy" and "Lee" don't go together for me.
He sings Lynyrd Skynyrd's "Simple Man," and it's very Nickelback lite. That works for Lee, though.
Everyone is singing songs they like so far tonight when I think they should have been selecting songs that are going to make the fans go crazy.
The judges are going crazy over Lee's performance, which to me is just indicative of what a snoozer this season has been.
8:10 p.m. – All season, I have been saying that Crystal "MamaSox" Bowersox is the one contestant who knows exactly who she is and how to stay in her lane.
Her selection of Melissa Etheridge's "Come to My Window" proves that she "don't care what they say" or "what they think." As she said, she is out here now having fun, and I have to believe it's because she is confident in her status as a front runner.
It didn't knock my (Mama) sox off, but it was all good.
8:03 p.m. – "OK, It's Alright With Me" if it's alright with you Casey James.
Casey looks comfortable back with his guitar. His song choice is pretty smart, in my opinion, as it shows off the easy, breezy, beautiful Casey his fans love.
I'm just nervous for him kicking off the show. When you go first, you really have to knock folks out, and I don't think he did that.
Crazy alert: I agree with Ellen for the first time this season I think. He did not bring it with that performance.