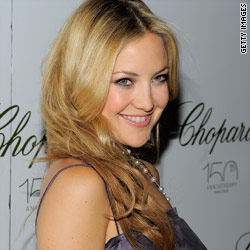 Kate Hudson is going to take it all off – well, most of it anyway.
The actress talked up the saucy role that she plays in the upcoming Michael Winterbottom film, "The Killer Inside of Me," in an interview with the Telegraph. In the movie, Hudson will cavort around semi-naked before getting into an, um, "cheeky" scene with co-star Casey Affleck.
"There were a couple [spanks] in there when I thought: God, Casey! He got a bit of power behind it. It was definitely real," she shared with the UK newspaper. But after a while, she said, "we all started to laugh because you become quite comfortable with the idea and it becomes about the technical side of things. I've known Casey for so long that you can't help but laugh every now and then."
And as for the rest of her body? It sounds like she feels like most women out there – except hers appears on the silver screen, for all to see and judge.
"I'm pretty comfortable with my body. I'm imperfect. The imperfections are there. People are going to see them, but I take the view you only live once," she said.
Hudson told the newspaper that she normally takes her five-year-old son, Ryder, on set with her, but didn't this time since her scenes were fairly explicit.
"I guess it will be weird for him when he does eventually watch it. I had to watch my dad die in films. I was 13 when I saw Backdraft and I was bawling," she said of her mom's longtime partner Kurt Russell.