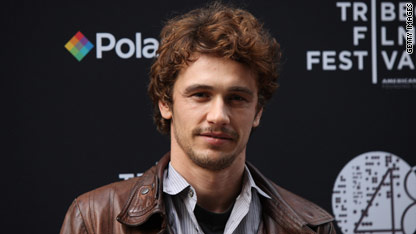 If you didn't get enough of James Franco the first time he made a cameo on daytime soap "General Hospital" – and really, who did? – then you're in luck.
Franco will be back as his "bad boy performance artist" alter ego, also named Franco, on June 30, just as the summer storyline gets into high gear, according to a press release from ABC.
Franco is returning to take care of some "unfinished business," where he'll "take the citizens of Port Charles on a wild ride of mystery, music, murder and mayhem," the release said.
"As the artist continues his obsessive vendetta against Jason (Steve Burton), enemies will be forced to work together, Jason and Dante (Dominic Zamprogna) will pursue a tangled web of clues Franco has laid out, the hospital will be in peril, and in a chilling climax, the viewing audience will be treated to performance art the likes of which they've never seen before." (They make it sound so thrilling, don't they?)
The "Eat, Pray, Love" actor (he'll be in that adaptation along with Julia Roberts), first made his appearance on the series last fall. The "General Hospital" crew has become like "a new family for me," Franco said.