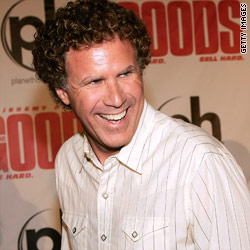 Where there's a Will (Ferrell), there's not a tweeter.
According to the comic actor's publicist, Matt Labov, his client isn't the guy behind the fake Paramount twitter account, which materialized about two weeks ago, right around the time it looked like "Anchorman 2" wasn't going to happen.
"There are at least 4 fake 'Will Ferrell' pages, none of which are actually him. The actor Will Ferrell did not 'tweet' these and it is unfortunate that Twitter, which purports to have authenticity and legitimacy, still cannot fix the continual issue of impostors," Labov said.
Just so we're clear: Labov is "saying that Will Ferrell himself does not have a Twitter page nor does he have anything to do with this Paramount page in any way, shape or form."
In fact, Ferrell said in an interview last year with Showbiz Spy that he got so criticized for the lack of humor in his tweets, that he was scared off from it.
So why do folks think Ferrell is behind it? Mainly because of tweets like this: "To all who are upset about us not green lighting Anchorman 2, we at Paramount say screw you! We have more reboots to fund instead!!" and "To all writers looking to pitch any original movie ideas to us, please submit them to the nearest garbage can in your vicinity."