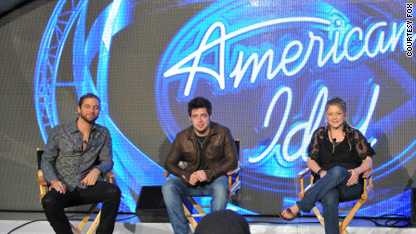 testing captions
It's now down to the three amigos on "American Idol."
Tuesday will see the last woman standing, Crystal "Mamasox" Bowersox, take on Lee DeWyze and Casey James for a battle to see who makes it to the "Idol" finale.
The trio will head to their hometowns for what is sure to be a warm reception and each will sing two songs: one they choose and a judges' choice.
MTV.com is reporting that Ellen DeGeneres has selected Paul McCartney's "Maybe I'm Amazed" for MamaSox, Simon Cowell has chosen the Leonard Cohen-penned "Hallelujah" for Lee and Kara DioGuardi and Randy Jackson  selected John Mayer's "Daughters" for Casey.
How in the world did they decide that Kara and Randy had to share? That's kind of messed up, I'm thinking. Clearly Casey is not going into this as an odds-on favorite to make it to the final two.
Speaking of Randy Jackson, check out an iReporter's interview with the judge here.