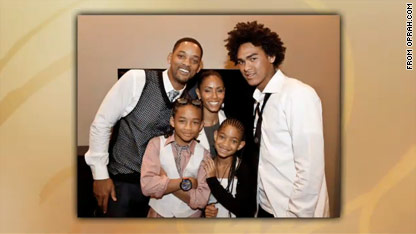 Will Smith and Jada Pinkett-Smith are the type of people who can bring about equal amounts of awe and disbelief as they maintain their careers and their marriage while raising kids all in the same spotlight.
Part of the answer to their success is their marriage-business plan, Will explained to Oprah Winfrey on Monday's show.
"If you don't have a goal, if you don't have a purpose for your relationship, you can get lost in the murk of the journey," the actor said. "There has to be a vision. Why are we together? An answer for why two spirits would join together and travel this perilous journey of life together. 'You're fine, you can cook, you can keep the house together' - that's not enough. There's so much more you have to be dedicated to."
And once the couple started having kids, Jada added, those goals morphed to include that of Trey, 17 (Will's son from a previous marriage), Jaden, 11, and Willow, 9. "Once we started to see how the children were growing… we decided that we wanted to make a family business, [asking], how do we incorporate all the talent we have in this family."
One way to do that is to help your child star in the remake of a popular 80s movie, kind of like how Jaden Smith will do in this summer's "Karate Kid."
The movie also stars Jackie Chan as the martial arts master who takes Jaden's character under his wing and teaches him how to defend himself from the kids who bully him at school.
The young actor's family was with him while he filmed abroad in China, and Jada and Will pulled double-duty as both producers of the movie and parents of the lead actor, encouraging him to continue past a knee injury and helping him learn his lines.
But apparently, when it came to Jaden's on-screen kiss, there wasn't much he needed to be taught.
"I did have my first on-screen kiss," he acknowledged on "Oprah," quickly adding, "I'm good at kissing, so….It wasn't as challenging as it could've been had I not had previous experience."
The couple dedicates much of their energy to helping their children realize their own visions, but that doesn't mean they're neglecting one another. Jada has gotten creative about keeping her relationship with Will nice and toasty.
"You have to keep it spontaneous," the "Hawthorne" actress said. For example, "during the day I might send a sexy picture of some sort. Just a reminder of what's waiting for him at home," she said. Or, "If he's on the set with me, on the set of 'Hawthorne', he might take a little 'break.' "