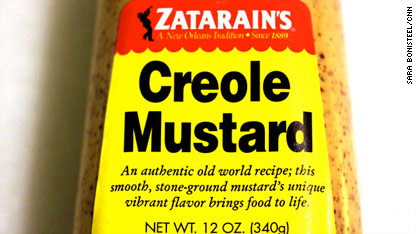 testing captions
Janette DeSautel is forced to close her restaurant in this week's episode of "Treme," despite winning raves from out-of-town chefs and having a packed house every night. She's got cash-flow problems and despite trying to placate suppliers with Barq's root beer each time they come to collect, they put her on cash on delivery.
"I can't write rubber checks, and I can't cook without food," she laments to her sous chef. She also can't bring herself to ask the staff to work a week for free. DeSautel reluctantly packs up her knife kit and locks up for what may be the last time.
Creighton Bernette, meanwhile, has to make meatloaf leftovers, and he needs some Creole mustard. "I put Creole mustard on everything," he tells his wife. Apparently Blue Plate mayonnaise too. There's a jar of it on his counter.
And then there's DJ Davis. He's running for city council and seeks the advise of Jacques Morial, the son of the city's first black mayor, Dutch, and brother of ex-mayor Marc. But in dolling out political advice, Jacques Morial conjures Emeril Lagasse. "That's if you really want to kick it up a notch. ..."
Finally, our creepy-eater, street-musician Sonny has returned to drugs. He lashes out at Annie and she spends the night napping at Cafe du Monde over a plate of beignets and a cafe au lait.
Here's a guide to the local products in episode six of "Treme":
Blue Plate Real Mayonnaise Though it touts its 1927 roots, locals love the former factory on Jefferson Davis and Earhart, a historic landmark dating from 1941 that ceased operation in 2000, according to the Times-Picayune.
Cafe du Monde Perhaps the best-known eatery in all of New Orleans, this 24-hour French coffee stand across from Jackson Square has spawned outposts from Atlanta to Kyoto.
Creole Mustard Those outside of New Orleans might recognize this mustard as a "stone-ground" variety. Use it to make homemade remoulade sauce, or like Creighton Bernette, slather it on your meatloaf.
Port of Call Davis and his aunt Mimi sport go-cups from this eatery on Esplanade, famous for its burgers served with baked potatoes.