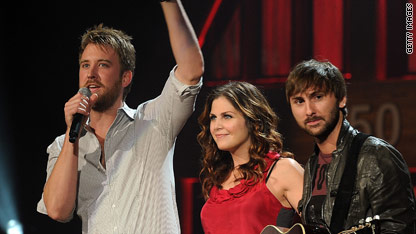 testing captions
At times, Sunday's three-hour telethon, "Music City: Keep on Playin'," felt like a community theater production of "Our Town." There were audio glitches. Missed cues. Moments when the hosts stared blankly into the camera lens while nothing happened. Yet that was part of the telecast's charm, because in many ways, it WAS a community production - where citizens participated in a homegrown effort to raise money for victims of the Nashville flood.
The show emanated from the city's historic Ryman Auditorium, with the Grand Ole Opry set as a backdrop, and aired live on GAC. The hosts were actors James Denton and Kimberly Williams-Paisley - he, a former Nashville resident, and she, a current one. Kim's husband, Brad Paisley, kicked things off on a hopeful note with his recent hit, "Welcome to the Future." At the end of the song, Paisley looked up toward the balcony and said, "My wife's up there...we're going to donate $100,000. Is that okay?" Kim looked surprised and quipped, "Wow. Well, I didn't need that new purse."
But there were poignant moments, too. Lady Antebellum delivered sparse, moving renditions of "Need You Now" and "I Run to You" - two songs that put them on the map as rising stars. Keith Urban chose to cover the Beatles' "Help!," telling the audience he and wife Nicole Kidman sustained "quite a bit of damage to their home in Franklin," and joked that his equipment was last seen floating down the river to Smyrna, Georgia.
Later, Urban and Kidman sat in at the phone bank, joining such other celebs as Sheryl Crow, Kellie Pickler, James Otto and singer Julie Roberts - who wore a borrowed dress and an ankle cast from an injury that occurred when she, her mother, her sister and four dogs were rescued by boat from their flooded home. Brad Paisley's father, Doug, also volunteered his time taking pledges via phone.
Other stand-out performances: Martina McBride's "Somewhere Over the Rainbow," Dierks Bentley's "You Hold Me Together" and Paisley's "River and Rain." Instead of ending the telecast with a big finale, GAC chose to close with a name not many are familiar with - Will Hoge. The sentiment of his song, "Washed by the Water" summed the evening up perfectly.
By the end of the live broadcast, more than one million dollars had been raised for the flood victims of Middle Tennessee by the residents of Middle Tennessee. It was "Our Town," Nashville-style.