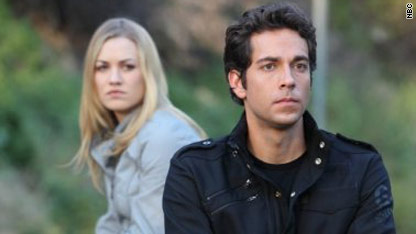 Last year at this time, NBC was touting "The Jay Leno Show" as the future of television.  Hopes were high that Leno in prime time would revitalize a network struggling in the ratings.  That didn't happen, and Leno has returned to late night.
Now, NBC is getting back to basics, unveiling a fall schedule that's heavy in new scripted programming.  Five dramas and two comedies join the Peacock lineup this fall, as well as one new "reality" show.
NBC FALL 2010 SCHEDULE:

Monday (all times Eastern):
8 p.m. - "Chuck"
9 p.m. - "The Event"
10 p.m. - "Chase"
Tuesday
8 p.m. - "The Biggest Loser"
10 p.m. - "Parenthood"
Wednesday
8 p.m. - "Undercovers"
9 p.m. - "Law & Order: Special Victims Unit"
10 p.m. - "Law & Order: Los Angeles"
Thursday
8 p.m. - "Community"
8 p.m. - "30 Rock" (new time slot)
9 p.m. - "The Office"
9:30 p.m. - "Outsourced"
10 p.m. - "Love Bites"
Friday
8 p.m. - "Who Do You Think You Are?"/"School Pride"
9 p.m. - "Dateline NBC"
10 p.m. - "Outlaw"
Saturday
Various reruns
Sunday
7 p.m. - "Football Night in America"
8:15 p.m. - "Sunday Night Football"
Surprise renewal: For the second year in a row, it has to be "Chuck," which is developing quite the knack for avoiding cancellation despite questionable ratings.
Surprise cancellations: The original "Law & Order" won't get the chance to become the longest-running drama in TV history, with production ending after 20 seasons.  Cult fave "Heroes" got canned after four seasons.  There are reports that both shows may get proper farewells in the form of TV movies, but we'll have to wait and see on that.
Surprise time slot change: Critically acclaimed but ratings starved "30 Rock" gets moved from 9:30 to 8:30 on Thursday nights.  Amy Poehler's "Parks and Recreation" gets moved to midseason as a result.
A look at the new shows:
"The Event" -  NBC describes this show as a "high-octane conspiracy thriller" about a man who exposes the biggest cover-up in U.S. history while probing the disappearance of his fiancee.  If the plot sounds a little like "24," there may be a reason for that - "Event" executive producer Evan Katz served a similar role on "24".
"Chase" - Jerry Bruckheimer brings his style of police procedural to NBC, as a team of U.S. marshals track down fugitives.
"Undercovers" - J.J. Abrams ("Lost") is behind this spy drama about a married couple lured back into the world of espionage to locate and rescue a friend, who went missing while on the trail of a Russian arms dealer.
"Law & Order: Los Angeles" - little is known about this fourth spinoff in the "Law & Order" series, outside of it being set in southern California.
"Outsourced" - a sitcom about a U.S. novelty company worker who's sent to India to run the company's call center.
"Love Bites" - this is an hour-long comedy anthology that could be described as "The Love Boat" without the boat.  The show is anchored by Becki Newton and Jordana Spiro, who play two single women looking for love.  Like "Love Boat" decades before, guests stars will come and go, interacting with Newton, Spiro and others.
"School Pride" - a "reality" series about communities coming together to renovate their public schools.
"Outlaw" - Jimmy Smits plays a former U.S. Supreme Court justice who returns to private practice to fight for the little guy.  Believe it or not, Conan O'Brien is one of the executive producers of this legal drama.
In addition to "Parks and Recreation," NBC's midseason will mark the return of "Celebrity Apprentice" and "Minute to Win It," as well as a Paul Reiser sitcom and a restaurant "reality" show hosted by Bobby Flay.