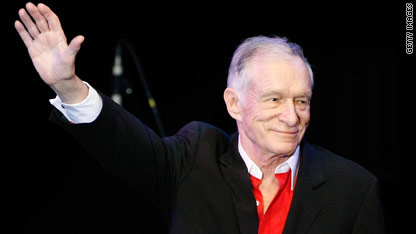 testing captions
It's not often you get to visit the Playboy Mansion when it's virtually empty. But that's exactly what happened to me recently. I got a chance to sit with Hugh Hefner and Oscar winning filmmaker Brigitte Berman in the library. We chatted about their upcoming documentary "Hugh Hefner: Playboy, Activist, and Rebel."
Hefner couldn't wait to dive into the conversation and talk about his life, his new leading lady, morality, his crusade for racial equality, his desire for more sexual freedom in society and why he let documentarian Brigitte Berman live in his mansion in order to shoot her film.
"There have been a number of documentaries on my life but none of them actually dealt with it in any detail you know the other side of my life," said Hefner. "That's what this film is all about."
At a recent screening of the film in Los Angeles, Hefner brought along his girlfriend, 24-year-old Crystal Harris. She is his ONLY girlfriend at this time. Hefner is known for having simultaneous multiple relationships. Hefner told me, "She's a very special lady and I'm very very happy!"
And after 84 years, Hefner said he is content with his life and everything else at this point. "At long last Hefner may be growing up." he said. "It's a little late, but there's hope for everyone now."