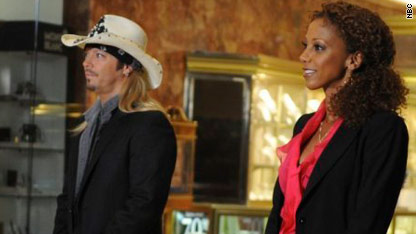 With three firings in the first hour, this week's episode of "Celebrity Apprentice" took me through a fantastic range of emotions.
It began with laughter. The five contestants - Holly Robinson Peete, Curtis Stone, Sharon Osbourne, Maria Kanellis and Bret Michaels - were celebrating their survival in the game.
The phone rang. Donald Trump announced he would fire someone immediately. Their "save me" speeches followed.
Maria Kanellis made what Trump considered a locker room comment - and I agree - about Curtis Stone and a stench he once left behind. Fired!
Enter the original "Apprentice" winner Bill Rancic and last year's "Celebrity Apprentice" winner Joan Rivers, who returned to interview the final four. They proved to be tough and great assessors. They asked the questions we viewers had all season.
To Peete: You may have raised the most money, but you have the most losses as project manager. Why are you still here?
To Stone: Why do you consider yourself a leader if you have only stepped up once as project manager?
To Michaels: Will you be able to focus?
To Osbourne: You've been ill. Will you be able to handle the work?
It was their assessment of Stone - that he was a one trick pony - that caused Trump to fire him next.
Osbourne burst into tears. She had made a surprising statement earlier about Peete that would've made me get rid of her then. She wondered aloud if she has a right to fight a mother who is fighting for what her child endures.
Osbourne was emotional all night. She sounded like she believed she had failed her charity, failed herself. So Trump fired Osbourne.
Way to punch a person when they're down, Trump.
The final two are Peete and Michaels. Did anyone predict that at the beginning of the season?
Their final challenge is to create a new Snapple flavor, a TV commercial and print ad that must incorporate their charity's message.
Summer Sanders and Darryl Strawberry returned to help Michaels. Strawberry still seems lazy to me. Curtis Stone and Maria Kanellis returned to aid Peete.
Who do you predict will win next week's finale? Holly haters, do you think she has a chance? Post your comments.