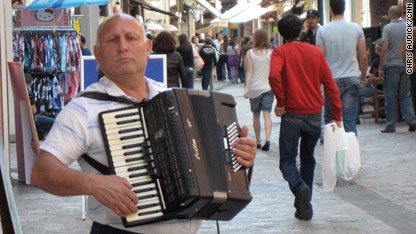 Cannes may be known for its film festival, but come here once and you can't escape the fact that the town loves its music. Say the town's name in its correct pronunciation (KAN) twice in a row and it's a music hall dance. And that's just what it's like here at film festival time: a 24/7, crazy, old-fashioned music hall, with fewer petticoats.
So while the movies eventually stop playing, the music doesn't quit. Ever. It blares through town all evening and long past the midnight hour from the sound system at the main theater here called the Grand Theater Lumiere. Sometimes it's the soundtrack to the film premiering at the Grand Theater and sometimes it's a completely unrelated French pop song.
To fill in the potential peaceful silence gaps, the gigantic tent parties and yachts that line the beach blast their dance tracks from sundown to sunup.
During the day, Cannes goes old-school with straight-out-of-central-casting, accordion-playing street performers who crank out traditional French folk songs and compete with marching bands leading the seemingly impromptu-parades. And don't get me started on the carousels – does one little town really need two merry-go-rounds?
This year, Cannes' love of music and film are intersecting nicely. Friday, former Oasis singer Liam Gallagher announced he's on board to produce a Beatles movie. Gallagher bought the film rights to "The Longest Cocktail Party," a diary of the Beatles' break-up. And then there's the palpable anticipation for the arrival of Mick Jagger on Wednesday. He'll be here on a publicity blitz for a documentary in the festival called "Stones in Exile."
In my many years covering the film festival you'd think I have indelible memories related to movies etched in my brain. Sure I have a handful of those. But it's the perpetual, omnipresent, music bed of Cannes that won't leave me. Right now, some party is pumping Michael Jackson's "Don't Stop Til You Get Enough."