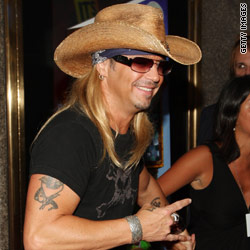 Bret Michaels is ready to rock Oprah Winfrey's world.
The 47-year-old rocker hasn't even been out of the hospital for two weeks, yet he's already lining up concert dates, and most recently, just booked a gig to appear on "Oprah" Wednesday, according to his website.
Michaels had been receiving treatment for a brain hemorrhage, and is currently in physical therapy twice a day since his late April hospitalization, but the "Celebrity Apprentice" finalist apparently is ready to get back into the game. He's got an album out on June 8, "Custom Built," and he plans to remain on tour through December.
Donald Trump told Access Hollywood that Michaels "turned out to be a real fighter," and he's hopeful that Michaels is up to attending the live finale on May 23. The former Poison front man is going head-to-head with actress Holly Robinson Peete for a $250,000 prize for their respective charities.