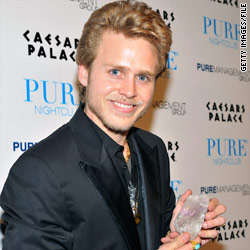 A picture – or lack thereof – is worth a thousand words.
Us Weekly is reporting that the family of "The Hills" reality star Spencer Pratt have removed pictures of him out of their home.
Both he and his wife Heidi Montag are on the outs with their respective familes –she called the cops on her mother, Darlene Egelhoff on Thursday after the latter showed up unannounced. Montag is still reeling from her mother's disapproval of her 10 plastic surgeries in one day – their first meeting after her surgery was featured in the season premiere of the MTV show.
"My mom  just showed up to the house unannounced... and after what she did to me on national TV, I have no desire to see her," the 23-year-old Montag told TMZ.com.
As for her husband, apparently he also has distanced himself from the family, with a friend telling Us Weekly that he doesn't speak to his parents any longer because he felt they "would talk to him only about (his sister) Stephanie and that they charged him with taking care of her. He thinks she's a loser and doesn't want anything to do with her."
Likewise, his parents have reportedly had it.
"They noticed him changing two years ago and stayed by his side. But now it's too much," a source tells Us Weekly. "They even took the pictures of him out of their home."