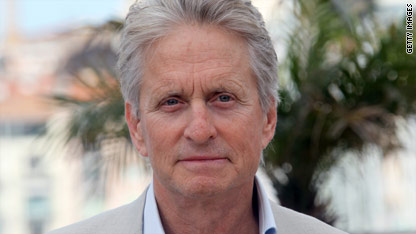 "...I want to wish you a HAPPY BIRTHDAY!"
Say what, Michael?!
The "Wall Street: Money Never Sleeps" star surprised me at the Cannes Film Festival when we sat down to talk about the new film - which is premiering here at Cannes - and the first words out of his mouth were a birthday greeting!
Now I'm not one to make the world stop for my birthday...in fact, I hadn't even mentioned it to any of my colleagues here. But I should never underestimate my sweet (and very sneaky!) coworkers. They secretly spoke with Michael's publicist in advance about the birthday surprise, and he graciously agreed to participate. I was stunned and, I admit, a bit thrilled my birthday didn't just come and go.
And yes, I know it's not all about me. So here are some nuggets from my chats with the "Wall Street" folks:
Michael Douglas told me people still closely identify him with his Oscar winning portrayal of Gordon Gekko more than 20 years after the original movie.
Director Oliver Stone is ticked off at investment banks, and he's sending a message with this film... but boy does he have a silly side - you should see his cameos in the movie.
Shia LaBeouf is intense. He was so intimidated by the stature of his co-stars, his nerves were frayed every day on set. To build confidence, he researched his role as a day trader until he almost became one himself.
Carey Mulligan is lovely. She came to Cannes as a tourist when she was 12 and tried to get on camera behind news crews on the street. Carey laughed and called herself "desperate."
Josh Brolin is easy to talk to and spoke lovingly of his beautiful, equally famous wife, Diane Lane.
Frank Langella is a warm, funny guy...reminisced about how wild Cannes used to be in the 70s.
The movie hits theaters in September, and they're hoping its relevance with today's unpredictable economic climate resonates with the audience.