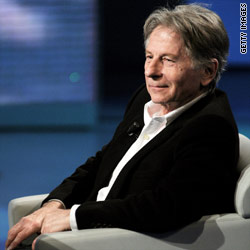 A woman who claims to be a "victim of Roman Polanski's sexually predatory conduct" will appear before reporters in Los Angeles on Friday, attorney Gloria Allred said.
Allred said she would explain later in the day why her client waited several decades to come forward. She did not say whether the woman was underage at the time of alleged offense.
Polanski's defense lawyer did not immediately respond to a request for comment.
The Oscar-winning director pleaded guilty to having unlawful sex with a 13-year-old girl in 1977 but fled to Europe before he was sentenced.
He left the country after learning that the judge might not go along with the short jail term he expected to get in exchange for his guilty plea.
He has been the subject of an international extradition battle since he was arrested in Switzerland in September on a U.S. fugitive warrant.
"I do believe that what she has to share with law enforcement is relevant to the ongoing investigation and to the sentencing and criminal proceedings that are in progress," Allred said Friday.
Swiss authorities released the director from jail on $4.5 million bail in early December, "pending extradition" to the United States.
Polanski, director of "The Pianist" and "Rosemary's Baby," has argued that the extradition request was politically motivated by a Los Angeles prosecutor who is seeking publicity and that it was unfair because he had already served his sentence.
He spent 45 days confined at California's Chino prison in 1977, but prosecutors argue that was only for him to be evaluated by psychologists before sentencing.
The recent documentary "Roman Polanski: Wanted and Desired" portrayed backroom deals in 1977 between prosecutors and a media-obsessed judge who was worried that his public image would suffer if he didn't send Polanski to prison.
A Los Angeles judge ruled in January that Polanski must return to the United States before the court can consider his legal arguments against his returning to prison.