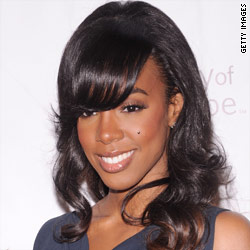 Kelly Rowland: you're out.
Bravo has refashioned the upcoming second season of "Project Runway" replacement show, "The Fashion Show," and has decided to hire a new co-host who has actually worked in fashion.
Nothing against former Destiny's Child member Rowland, who hosted the first season of "The Fashion Show," the show where newbie designers compete for a fashion line and a cash prize of $125,000. Rowland is a fashion plate, to be sure, but the show clearly needs to beef up their first season's less than stellar numbers; so it makes sense to get someone with a fashion-rich background.
And the new woman who'll be co-hosting alongside designer Isaac Mizrahi? Legendary supermodel Iman.
"I am so excited to be joining the Bravo team and to be working again with Isaac Mizrahi, my close friend of many, many years," Mrs. David Bowie said. "I am also looking forward to all of the behind-the-scenes excitement and drama that is generated through the creative process of these undiscovered fashion designers."