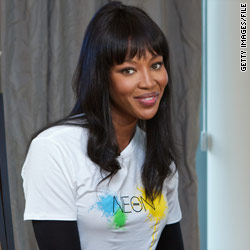 The latest fashion must-have in Naomi Campbell's closet may be a piece of red string.
Word is, after likening kabbalah to Alcoholics Anonymous, the super model is having secret meetings with Madonna's kabbalah mentor, Eitan Yardeni. The red string bracelet is thought to ward off misfortune; the cell phone throwing super model may need it.
Sources tell the New York Daily News gossip hounds that Campbell (she turns 40 later this month, with a grand party planned in Cannes to mark the occasion) met with Yardeni at Manhattan's Kabbalah Center right before she reportedly jetted to Europe with her Russian billionaire boyfriend, Vladimir Doronin.
Just two years ago, Campbell said "I knew about kabbalah before Madonna got involved. Kabbalah is not a religion, it's a program. I don't like to get hooked on things like that. It reminds me of AA, but just with different words. They've got the same principles . . . I just believe in God. I am religious. I pray most days and do my thing. But each to their own."
The newspaper reports that Campbell's rep couldn't be reached for comment.