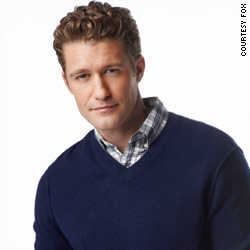 On "Glee," the character of Will Schuester is enjoying his new found singleness, but the man who plays him wants the world to know he is not a cheater.
In an interview with Parade magazine, actor Matthew Morrison shot down rumors that he is having an onset romance with actress Lea Michele, who plays his character's student, Rachel.
"There's the one about Lea [Michele] and myself, and we were literally on set and I got a call from my publicist, and she got a call a minute later and we looked at each other like, 'What the [expletive]?' It's so laughable," he told Parade.
There has also been talk that his ex-fiancee has been sharing stories with the tabloids about Morrison's alleged unfaithfulness.
Stories have been circulating that Morrison's ex broke off wedding plans because she suspected the actor was cheating. But the "Glee" star denies it.
"And now there's this one about my ex-fiancee going to the tabloids, which so isn't true," he said during the interview. "I have a great relationship with her."
"I feel like I can handle this stuff because I don't really care," he added. "I've never gotten into tabloids and I don't really care about it now, but I just feel bad for other people in my life who are getting dragged into it. It just kinda sucks."
Click here to read the full interview at Parade.com