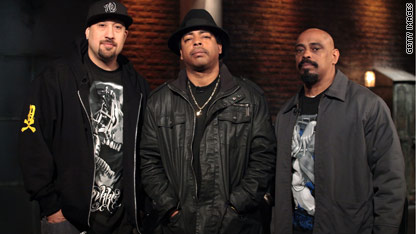 Cypress Hill and Pitbull have canceled their respective gigs in Arizona in protest of SB 1070.
On Monday, the band posted this message on their website:
"In a show of resistance to the criminalization of immigrant communities and in opposition to SB1070, recently signed into Arizona legislation, Cypress Hill has elected to cancel a performance scheduled in Tucson for May 21, 2010. This decision was made in an effort to show support and solidarity with those, undocumented and otherwise, being directly affected by this unconstitutional "law." Cypress Hill recognizes those living in the struggle for their basic civil rights. Rise Up!"
Pitbull is also taking a stand. In a tweet from Taipei, the artist said he's canceling his concert in Phoenix on May 31. "How is the country we enjoy and love bcuz of its human rights, freedom, opportunity and that has been built by immigrants, now start 2 deny them," he added. "It is contradicting 2 everything the USA stands 4."
Pitbull and Cypress Hill are just the latest stars to speak out against the recently signed law. Shakira voiced her opposition to the law in late April, and Robert Rodriguez issued an "illegal" Cinco de Mayo trailer for his upcoming movie "Machete" with a special message tucked in there just for Arizona.