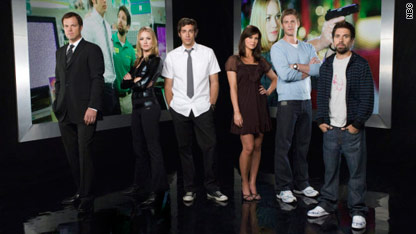 "Law & Order" is not the only show to have gotten the ax.
Tis the season when fans find out which shows will be returning next season and which ones won't.
Fox network renewed "Lie to Me" and "Human Target" while ABC reportedly will bring back "V" and NBC has given the green light to bring back "Chuck."
Other shows reportedly haven't been as lucky. Deadline.com is reporting that Fox will cancel "The Wanda Sykes Show" after one season.
Meanwhile, over at EW.com, Michael Ausiello is reporting that ABC is getting rid of "Romantically Challenged," "Better Off Ted," "Scrubs," and "FlashForward." He also reports that NBC has canceled both "Mercy" and "Trauma."
So if you are keeping track, the shows that have been recently reported as canceled are:
"Better Off Ted," ABC
"FlashForward," ABC
"Romantically Challenged," ABC
"Scrubs," ABC
"Ugly Betty," ABC
"24," Fox
"Lost," ABC
"Past Life," Fox
"'Til Death," Fox
"Law & Order," NBC
"The Wanda Sykes Show," Fox
"Trauma," NBC
"Mercy," NBC
While those set to return are:
"V," ABC
"The Cleveland Show," Fox
"Cougar Town," ABC
"Chuck," NBC
"Community," NBC
"Law & Order: SVU," NBC
"Modern Family," ABC
"90210," CW
"The Vampire Diaries," CW
"Glee," Fox
"Parenthood," NBC
"The Good Wife," CBS
"Smallville," CW
"How I Met Your Mother," CBS
"NCIS: Los Angeles," CBS
"Human Target," Fox
"Lie to Me," Fox