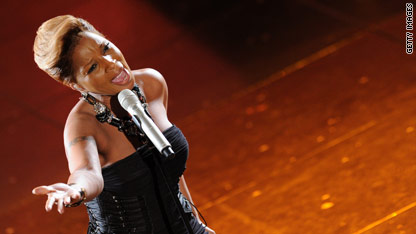 Mary J. Blige has been cast as High Priestess of Soul Nina Simone in Cynthia Mort's "Nina." The script, penned by Mort, will focus on Simone's relationship with her assistant, Clifton Henderson, played by David Oyelowo, according to EW.com.
The iconic jazz singer and civil rights activist is best known for songs like "To Be Young, Gifted, and Black" and "My Baby Just Cares For Me."
Because everything that is old is now new again, Jennifer Aniston and Paul Rudd will reprise their "Object of My Affection" chemistry in the comedy "WanderLust," produced by Judd Apatow. Rudd and Aniston will portray a broke couple who take reprieve in a commune, according to Variety.
Aniston's also been cast in "Horrible Bosses," where she'll play an "aggressive dentist" (whatever that means) in a movie about three friends who team up to kill off their overbearing bosses.
Meanwhile, Brad Pitt may soon tap into some inner ferocity for "The Tiger," according to The Hollywood Reporter. Pitt's reportedly in talks with "Babel" writer Guillermo Arriaga for an adaptation of an upcoming nonfiction book by John Vaillant about an animal activist who protects his Siberian town when a tiger starts to attack the inhabitants.
It looks like mission "TV to movie star" is just about complete for Katherine Heigl, who has just been cast in yet another film, "Age of Adaline," wherein she finds a fountain of youth as the result of an accident and never ages a day past 30, according to ScreenCrave.
Last but not least, James Gandolfini is keeping his HBO relationship alive and well post-"Sopranos." The actor is signed on to HBO Films' "Cinema Verite," about the people documented in PBS's "American Family" in the 1970s, according to Variety. Last week Gandolfini was announced as the executive producer of HBO's take on the French Canadian series, "Taxi 22."