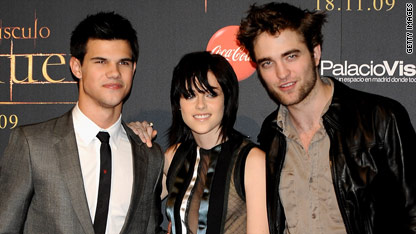 The now ubiquitous cast of the "Twilight" saga swung by the set of "The Oprah Winfrey Show" Thursday, and mainly discussed topics they've already talked about before.
The audience was reminded of what it's like to go from relative unknowns to global superstars (it's weird); how Taylor Lautner got so beefy (eating protein and working out); how Robert Pattinson feels about being the actor most likely to have his name attached to a fawning superlative (he doesn't understand it); and how painfully shy Kristen Stewart is (look at red carpet photos for evidence).
There wasn't much that the cast hasn't rehashed in other interviews, which isn't surprising considering the exposure these three get. Here's a rundown of things you maybe, just maybe, don't already know.
Taylor Lautner has never tried a cigarette in his life, not even behind a barn, much to Winfrey's surprise. He guesses his abstinence is because  "it's just the way I was raised by my parents and my family."
Robert Pattinson and Kristen Stewart, if they are to be believed, are incredibly low-key. On Saturday nights, Pattinson is going through his phone book "desperately calling someone… because no one would've called me," he said, while Stewart spends her evenings with her cat, which she has an "Edward and Bella, co-dependent relationship" with.
Pattinson and Stewart are still not talking about whether or not they're actually dating, but Pattinson does like to joke that K. Stew is knocked up. Apparently they also joke that Pattinson would have to have the baby because Stewart is so physically slight.
Pattinson's American accent was developed from an adolescence filled with American film and a desire to be a rapper. "The main thing was I used to want to be a rapper when I was like 14," he told Winfrey. "I have a lot of recordings of it, with the cadence and everything." The word "nachos," however, still gives him trouble.
Stewart responds well to sympathetic physical contact. Winfrey clearly read Stewart's recent ELLE interview very closely, because she kept bringing up how shy the 20-year-old actress is, and even gave her a hug to help her relax. Stewart told the audience, "This means a lot to you guys, and it's the same for me. I understand that words have weight, and I mince them when I know that everyone's waiting for them."
That awkwardness is one of the reasons why she relates so well to Bella. "I think I bring more of myself to Bella than any other character, which is what you can do because she's a very vicarious character," Stewart said. "I relate to the fact that she's totally awkward, but she owns it and she doesn't say anything she doesn't mean."