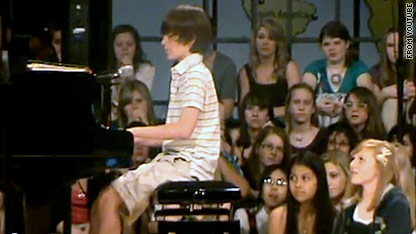 testing captions
Is he the next Justin Bieber?
Greyson Michael Chance certainly has a lot in common with the teen pop sensation including a trendy hairstyle and some major singing talent.
And like Bieber, Chance seems poised for success thanks in part to YouTube.
An impressive video of the sixth-grader performing Lady Gaga's hit "Paparazzi" at a school talent show is racking up the views. It also led to an invite from Ellen DeGeneres to appear on her show Thursday.
And if the response of the girls in the audience is any indication, there may be a new legion of fans "going Grey" soon. Not too bad for a kid that some have dubbed "Little Lord Gaga."
Click here to watch the video.