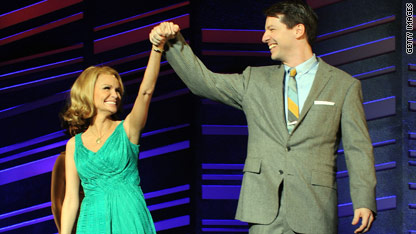 The Gay & Lesbian Alliance Against Defamation has issued a statement about the Newsweek article that has yet to cool down at the water cooler.
"We must move beyond stereotypes," GLAAD President Jarrett Barrios wrote in an e-mail to CNN. "As a gay man, Setoodeh should know that not all gay men are effeminate, nor are all lesbians masculine. Actors are hired to play a part and their sexual orientation should have no bearing on how well they can do so."
Barrios goes on to say, "I hope that gay young adults do not read this piece and think that they are worth less than their straight counterparts because openly gay people today are indeed successful actors as well as Senators, parents, corporate leaders and athletes. Glass ceilings have indeed been broken."
Stoodeh, who is gay, wrote the article as a result of his dissatisfaction with Sean Haye's performance in the Broadway revival of "Promises, Promises."
Haye's "Promises, Promises" co-star Kristin Chenoweth said she was "shocked" by the article's message, and "Glee" creator Ryan Murphy has urged people to boycott Newsweek as a result of the article.