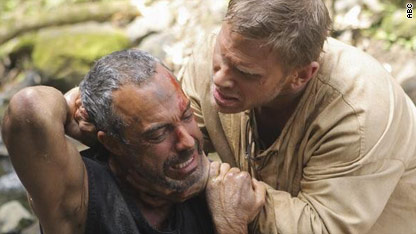 "Every question I answer will simply lead to another question." So said one mysterious resident of the island, to a pregnant woman who was shipwrecked there thousands of years ago. Boy, she wasn't kidding.
We got more than our usual share of answers on Tuesday night's episode of "Lost," with one long flashback explaining the origins of Jacob and the Man in Black. Chances are that this will either be seen as a landmark episode or a massive misfire by most fans. It will almost certainly be debated for a long time to come.
I don't know about you, but I'm going to resign myself to the fact that some of what's happened over these six seasons just won't be fully explained (especially after recent statements by Evangeline Lilly and another key actor on the show - watch this space for more on that later today). I'm okay with that. Even so, I'm hoping we'll get a little more clarity, at least on what we saw in this third-to-last episode, before it's all over.
What really struck me were the many parallels between this mythic story and the themes of the show up to this point.
This week, we found out, in no particular order:
The parentage of Jacob and the Man in Black (who shall still remain nameless). They came here "by accident" just like everyone else. Of course that's not what their adopted mother - protector of the island's powers, not to mention a murderer - told them. Jacob was the good son who nevertheless didn't particularly interest Mother (they really weren't big on names back then). The Boy in Black was seen as "special" (not unlike Walt, Locke and perhaps even Aaron?), but that was not to be.
They were told that the other people on the island were evil and when others show up "it always ends the same." Both had questions, especially Jacob, but few answers were forthcoming. Like Jack, there were more than a few parental issues going on. When the ghost of the Boy in Black's real mother appeared to him, Hurley-style, and told him the truth, his world was shattered. He went to join the other people, like Ben.
The origin of the donkey wheel as well as how all of this Jacob/Man in Black stuff ties into the science, the electromagnetic properties of the island. The Man in Black believed his invention of the donkey wheel, with the help of the "other people" (not unlike Dharma) to be his way off the island, and he was right, but not before Mother stopped him, because she had to protect the island's "source" (more on that later). This would later be found by Dharma, lead to the incident, the Numbers, yadda-yadda-yadda.
The origins of the smoke monster and its connection to the temple's rejuvenating pool. After Mother attempted to kill the Man in Black, and wiped out the "other people" (how exactly?), Jacob was instructed to drink from the bottle of wine he would later show to Richard.
Despite his questioning and resentment at being the "second choice," he eventually gave in. He would become like her and protect a stream that led to a magical light, the "source" that she said represented life and death - and some of it was "inside every man... If the light goes out here, it goes out everywhere." Not too far off from what Jacob told Richard.
On the other hand, how far off her rocker was Mother, anyway? Was she shading the truth, was her view of things completely warped, or did she just not know the answers herself? One thing is for sure, there was certainly something other-worldly about that stream and light... after the Man in Black killed his Mother (something she was relieved to have happen), Jacob took out his revenge by knocking him cold and sending him downstream.
And from that would come the familiar sounds... and a burst of smoke. (Note that all three main characters here committed at least one murder.)
Those darn Adam and Eve skeletons were also explained, with a helpful reminder that Jack didn't just find skeletons in a cave way back in the sixth(!) episode of the series... he found two rocks, one light, one dark. These were reminders of the game that Jacob used to play with his twin brother from childhood. At the time, Jacob was told that one day he could have his own game and make up his own rules. The two skeletons were a mother and son... the Man in Black was dead, just like Locke.
So there are your answers, and here are some questions:
So does this mean that the smoke monster and the Man in Black are two totally separate entities? It would certainly explain why the Man in Black came across as quite sympathetic, arguably more so than Jacob (dare I call him whiny?). Or is the smoke monster able to twist people's souls into something evil? I have a feeling that's one we may have to figure out for ourselves.
So we quite clearly saw a birth (actually, two) on the island. When did these stop? I believe that we have yet to be told why no one was able to give birth on the island for a while, at least prior to Claire.
Going back to the references to "games" and rules, they seemed a bit murky here. Jacob and the Man in Black were supposedly unable to hurt each other but that was clearly not the case, even after Jacob drank the wine. Was that just another lie from Mother? (Like so much we've heard from Ben and the Man in Black, it all depends on where you're getting the information. Is all of Jacob's knowledge of the island from Mother?) This would lend credence to the idea that the Man in Black and the smoke monster, unable to directly kill Jacob or a "candidate," are two separate things.
Oh yeah... who is that kid who keeps appearing to "Smokey?" (UPDATE: It's been pointed out to me that that is Jacob as a child.)
Oh yeah... who are the "new" Others and when did they hook up with Richard? No doubt they got there "by accident." Jacob's status as some sort of "god" appears to have a lot more to do with Richard's belief that "Smokey" was the devil, instead of an admittedly-more-confident Jacob actually being a deity.
Oh yeah, there's also the matter of a freaking huge statue and how it got there.
Allison Janney as Woman. a.k.a. Mother: Good casting or bad casting? Discuss.
Never fear, there are still two episodes to go! Gulp. As for what to expect next, your guess is as good as mine (but we'd love to know what you'd like to see happen - only a few days left to post your video). I've come this far and I'm prepared to ride it out to the end, for better or worse.
So which was this episode, better or worse? Share your thoughts on video, or in the comments below.