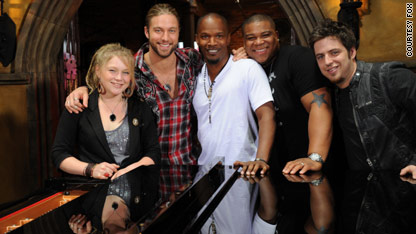 testing captions
SPOILER ALERT!!! Tonight's blog entry will reveal the contestant being sent home from "American Idol." Don't read any further if you don't want to know the results.
9:56 p.m – Ok, no fair bringing Big Mike's baby up on stage!
I feel a tear. He sings his heart out. Way to leave with class, Big Mike.
9:54 p.m. – Big Mike's wife looks destroyed.
So sad, but at least she got to hang on for an extra five weeks. Think of all the people he got to meet and pick up in the air.
He should be very proud.
9:52 p.m. – Sounds like two girls planned to yell "I love you Lee" just at the right moment.
The person in the top three is...
Crystal a.k.a. MamaSox!
9:42 p.m. – Yeah,  you knew it was too early to find out that Big Mike didn't make the Top 3.
Instead we have a performance by Bon Jovi who perform "Superman Tonight."
I swear these cats never age, though I have to say that I find Jon Bon Jovi's hair slightly disturbing for some reason. I just look at it and think "Baby Trump."
I still dig Bon Jovi anyway. Their music makes me feel like I am back in a bar on the Jersey Shore. This new single doesn't rock as hard as their older stuff, but I'm glad they are still in the game and doing so well.
9:34 p.m. – Seacrest reminds us that the "results are in no particular order."
Well, clearly since Casey is the first to go sit in a safe seat. No way that dude got more votes than Lee.
We drag out some more time by letting folks ramble about their performances. Clearly no one is going to step up and say "Yeah, I stunk up the joint last night and I regret it."
The next person to be announced as safe is....
Lee!
His people look overjoyed.
That means either Big Mike or MamaSox is headed home. I will be stunned if it's MamaSox!
9:23 p.m. – I probably straight look the fool bouncing on my sofa waiting for Seacrest to announce Daughtry.
Chris D., oh how I have missed you. You take me back to the days when the majority of the contestants were either awesome or borderline awesome.
But I digress.
Daughtry sings "September" and he's still my favorite rocker from the show.  Wow, he's good.
9:14 p.m.- Everyone is so earnest in their desire to return home as one of the Top 3.
Alas, it is not to be for one of them.
"Big Mike" Lynche and Casey James both want to see their pups. So sweet!
The families being up on stage is going to be crazy emotional I sense.
First up, Mike and Casey. "Big Mike" picked their duet song so good for him.
Crystal "MamaSox" Bowersox and Le DeWyze talk about how much fun they had learning their duet song.
The first person announced as safe is....
Casey James!
Uh uh. I think I know what that means....
9:11 p.m. – Whoever leaves tonight is probably sure to miss filming the music video/commercial every week.
Not!
Everyone is on a stool waiting to find out who gets the hometown visit that comes along with being in the Top 3.
Great to see some of the past ones.
9:01 p.m. – Lots of people voted for our Top 3 apparently. Hope they made the right choice.
Fantasia is back!
She sings her new song "Bittersweet" and she looks like she has been hitting the gym on the regular. Wish I could see her eyes more, but her shaggy haircut is hanging in her face.
I always thought she should have had such a bigger career than she has because she's so talented. Her voice is just incredible and she is an amazing performer.
I interviewed her a few months ago and asked her if she regretted not having a better career and she laughed that little girl laugh and said "I ain't done yet baby!"
Love me some Tasia!