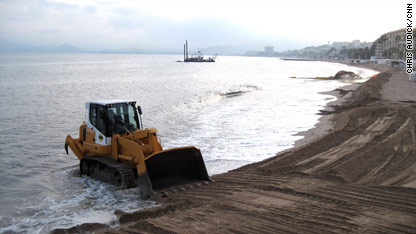 Someone up there doesn't like the Cannes Film Festival. At least not this year.
Days before the festival got underway, terrible weather and massive waves struck the town, damaging oceanside restaurants and eroding the beach.
Then the Icelandic volcano flared up again, causing more flight cancellations just as people were trying to get here.
If that wasn't bad enough, the Greek debt crisis is also driving down festival attendance.
But just when things were beginning to look bleak, "Robin Hood" rode to the rescue! Russell Crowe and Cate Blanchett turned out for the premiere of their new movie, which opened the festival tonight. Amid the red carpet excitement, all disasters (natural and otherwise) were temporarily forgotten.
Things are even looking better along the coast; giant earth-movers have been dredging sand from the ocean bottom and dumping it onto the beach.
After all, it's not just the stars that have an image to maintain.