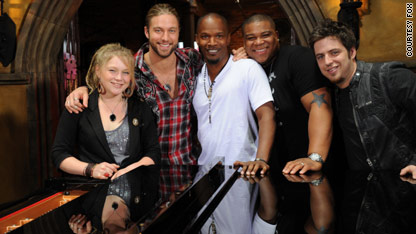 testing captions
8:52 p.m. –The final duet of the evening is Casey and Big Mike singing "Have You Ever Really Loved a Woman."
Again, the two of them play their guitars, and I enjoy it. Their voices seem to blend even better than Lee and MamaSox.
Still, I can't help but think that we are looking at our bottom two.
8:44 p.m. – MamaSox is the last woman standing.
She thinks the judges have been tough on her lately, and I agree. Jamie takes it to church and says her version of Kenny Loggins' "I'm All Right" needs to be a testimony.
MamaSox is as saucy as ever, turning the song into a bluesy anthem. And unlike last week, she gives "Idol" the big finish with the notes at the end.
Yay MamaSox!
8:34 p.m. – "Seduce me?"
Really Jamie? His advice to Casey James seems to have done the trick, because his "Mrs. Robinson" was kind of hot. The Casey we know and love is back!
Almost getting voted off last week must have shook him up a little bit, which was a good thing.
Even if he may have been singing to Kara.
8:26 p.m. –I love the song "Falling Slowly," and Lee and Crystal "MamaSox" Bowersox sound good singing it together.
I love seeing the two of them, facing each other singing and strumming their guitars. They rocked!
I wouldn't be mad to see the two of them in the finals. And MamaSox has a "musical crush" on Lee? Her man better come with that proposal soon!
8:14 p.m. – Hey "Big Mike" Lynche.
He says he feels pressure from his family, friends and city to make it into the Top 3. A year ago, he set a goal to make it into the top trio, but it's going to be a tough fight.
Jamie gets him to dance to loosen "Big Mike" up. There is also some hand punching, so for me, more "Ali" flashback.
"Big Mike" sings "Will You Be There," and it sounds like he starts out in the wrong key. Michael Jackson is hard to pull off, and this is a powerful song.
I heart "Big Mike," but I did not love this performance. Such a disappointment.
Cowell is so British and so confused. Loves it!
P.S., I attended the Michael Jackson memorial in Los Angeles, and former "Idol" contestant Jennifer Hudson blew "Will You Be There" out of the atmosphere, so perhaps the bar has been set too high for me.
8:04 p.m. – First up is Danny Go ... oops, I mean Lee DeWyze singing "Kiss From a Rose."
Jamie reminded me of his character in "Ali" when he coached Lee.  All up in the face to get him to perform and connect.
Not sure that it helped. The audience is loving it, but I was not moved. Once again, song choice is key, people. The judges weren't overwhelmed either.
And is Kara DioGuardi wearing one of Ellen's suits?
8:01 p.m. – Awwww, Idina Menzel and Taye Diggs left the baby home and are enjoying date night at "Idol." Cool to see them in the audience.
Is there anyone cooler than Jamie Foxx? He's trying to motivate them with ... T-shirts? I guess.