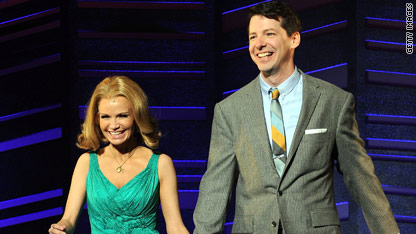 testing captions
When writer Ramin Setoodeh wrote an essay for Newsweek expressing his belief that it's rare for gay actors to be able to pull of playing a heterosexual character, he set off a firestorm.
Setoodeh, who is openly gay, has been getting berated across the Internet for the article and has even incurred the wrath of Hollywood and Broadway stars.
It all began when Settodeh's article appeared a few days ago and led with the example of "Will & Grace" star Sean Hayes turn as the romantic lead opposite Kristin Chenoweth in the Broadway revival of "Promises, Promises."
Setoodeh noted Hayes is best known for his role as "the queeny Jack on Will & Grace.'" In a recent interview with The Advocate magazine, Hayes appeared to come out when he said "I am who I am. I was never in, as they say. Never."

And while Setoodeh gives the actor props for his comedic timing, the scribe was not as impressed with Hayes' role as a heterosexual.
Gallery: Playing it straight in Hollywood
"But frankly, it's weird seeing Hayes play straight," Setoodeh wrote. "He comes off as wooden and insincere, like he's trying to hide something, which of course he is."
The article, (which also questions the effectiveness of the performance of reportedly gay actor Jonathan Groff as a new love intrest for the character of Rachel on the hit show "Glee") very quickly spread throughout the web.
It prompted Chenoweth – who has worked with both Hayes and Groff – to  comment that she was "shocked on many levels to see Newsweek publishing Ramin Setoodeh's horrendously homophobic 'Straight Jacket,' which argues that gay actors are simply unfit to play straight."
"This article offends me because I am a human being, a woman and a Christian," Chenoweth wrote in an open letter to Newsweek which appeared on PerezHilton.com. "For example, there was a time when Jewish actors had to change their names because anti-Semites thought no Jew could convincingly play Gentile."
Angry tweets on Twitter included comments that "Newsweek writer Ramin Setoodeh blows" and openly gay Broadway actors Cheyenne Jackson and Michael Urie told the site Afterelton.com they thought Setoodeh was an "a**hole" and "unconscionable."
Setoodeh has acknowledged the controversy with a new article where he reports that he has "became the subject of a lot of vicious attacks."
"I received e-mails that said I will be fired, anonymous phone calls on my cell phone and a creepy letter at my home," he wrote. "Several blogs posted my picture, along with a link to my Twitter feed. People commented about my haircut, and that was only the beginning. I was compared to Ann Coulter and called an Uncle Tom."
Setoodeh defended himself and said he was aiming to stir intelligent discussion with his article. He is not at all homophobic, the writer said.
"I'm not a conservative writer with an antigay agenda," he said. "I don't hate gay people or myself."
Ramin Setoodeh is scheduled to appear Tuesday night on HLN's "The Joy Behar Show" along with "Married with Children" actress Amanda Bearse and writer Dan Savage who are both openly gay.