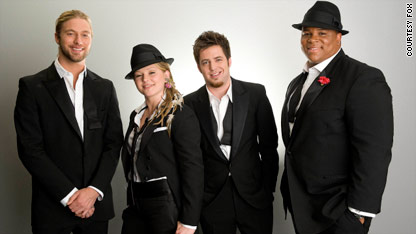 testing captions
We're almost there!
"American Idol" is down to the Top 4 and Tuesday night Crystal "MamaSox" Bowersox, Lee DeWyze, Casey James and "Big Mike" Lynche will be performing songs of the cinema as they tackle the Movie Week theme.
Special guest mentor is a man who knows lots about both  movies and music: award-winning actor, singer and comedian Jamie Foxx.
Fox has mentored before so it should be interesting to see what words of wisdom he has for this year's three guys and a lady.
And don't forget that there is a twist – in addition to their solo cong choices, the "Idol" contestants will perform a duet.
Who do you think will get matched up?