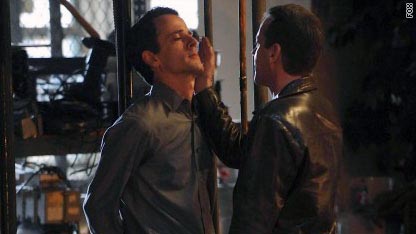 Editor's Note: You know the drill - if you haven't watched this week's episode of "24," don't read any further!
"24": Day 8 - 12 p.m. to 1 p.m.
Bauerites, the bell tolls. Only 3 hours remain, and another solid episode of "24" is in the books.
It's been said that "revenge is a dish best served cold." Well, Jack Bauer's brand of revenge is being served in sub-zero temperatures, and the forecast looks downright frosty. After Renee was murdered, we knew Jack was in a bad place, but last night's episode provided GPS navigation to the exact address of his state of mind.
In this final season of "24," the show has hit its usual stride with blistering action and sadistic brutality that makes us cringe at every turn. There are also a few stretches along the way where we focus on the day's fast-paced circumstances and keep track of the story lines. I thought this latest episode was an outstanding example of all of the above.
So, in the spirit of the clock winding down, here's my list of the top five reasons I loved last night's "24" (in order from least to greatest):
5. "Find Jack!"
If an episode starts with someone exclaiming these words (in this case, Logan's chief crony, Jason Pillar), the hour will most likely be fantastic. The pantheon of "find Jack" greatness includes a who's who of some of the show's finest characters including Bill Buchanan, Tony Almeida, George Mason, Audrey Raines, Curtis Manning, and my favorite past villain, Habib Marwan... just to name a few.
At some point in seasons past, these guys yelled it out, and hijinks inevitably ensued.
4. Every hero has "a guy."
Of the countless action movies I've seen, how many heroes DON'T have "a guy"? The guy that gets stuff, makes sure our hero has what's necessary, and can step in if need be. Well, Jack's got a guy, and his name is Jim Ricker (played by Michael Madsen). Ricker didn't just SHOW up in last night's episode, he STEPPED up, big time.
Jack and Jim take down a department store chock full of Russian operatives in a beautifully orchestrated hail of gunfire that was flat-out fun to watch. Feel free to stop watching the show if your right hand didn't high-five your left when Jim put that gun to Tokarev's head. That was a fantastic moment, and per the norm, my response to this electrifying piece of Bauer power was "Hell yeah, Jack (and Jim)!"
3. Thanks Chloe!
When Jack's in a pinch, what would happen if Chloe wasn't the razor sharp, uber-analytical know-it-all we know and love? In typical form last night, she sorted through the CTU fog and provided the valuable help Jack needed from the inside. If we're patient, she will always get that highly-sensitive, military classified, schematic diagram of the "nuk-u-lar" bomb being developed in a cave in Madagascar to Jack's PDA.
As we also know, the satellite photos of said cave will be faxed over to the Kinko's at the corner nearest to Jack's location, but he's 10 minutes out, so it works perfectly. As stated, "Thanks Chloe!"
2. Logan's dirty. Logan's filthy!
It's official: We all knew Former President Charles Logan's efforts were self-serving, but this guy is a special kind of underhanded. While President Taylor has essentially sold her soul to this "special adviser," he is busy running the usual race to cover his tracks while simultaneously building "Brand Logan." You have to love Logan's fever for the flavor of his personal agenda.
"Oh, by the way Madame President, don't you think its time you let everyone know how FANTASTIC I have been in the middle of all this?" Seriously? Keep watching as Logan ends up being the random creepy guy in the photo of the historic treaty signing. Then again, Jack will certainly have a word or two to say about that (which brings us to #1).
1. The last 10 minutes were awesome!
In my opinion, this episode hit us with everything it had. However, the last 10 minutes were absolutely exhilarating. I can't speak for the finer points of Jack torturing Tokarev, but if I'm balled up in the fetal position every time Jack touches "that wound," what's happening on-screen is having a pretty good impact. Once Jack figured out the SIM card was missing, I had an itchy feeling Tokarev would be giving it back some kind of way and give it back he most certainly did.
By the time Jack checks the phone, we knew where it was leading - we're set up for another great show next week. Uh oh, Logan!
It was a grueling show to watch, but in that fun "24" sort of way. Stay tuned Bauerites, we're getting close to the end of a very good season. Loved, kinda liked or hated the show? Let us know!