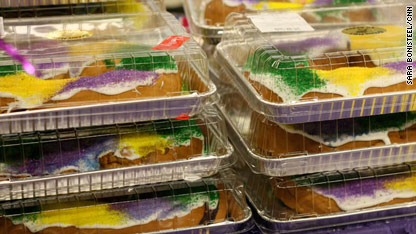 testing captions
So chefs Tom Colicchio, Wylie Dufresne, David Chang and Eric Ripert walk into a bar. ...
Is this the beginning of a food awards joke? Nah, it's just the fifth episode of "Treme," when chef Janette DeSautel gets a surprise visit by four New York chefs referred to her struggling fictional restaurant by New Orleans' own "Top Chef Master," John Besh.
"We can't out-New York a bunch of New York chefs – we lowball them," DeSautel tells her sous chef Jacques. "We start with the sweet potato andouille shrimp soup. Then we get the rabbit kidneys out the freezer – they're tiny, they're going to thaw fast. We skewer 'em with some lardons of the Benton's bacon, then we hit 'em with sweetbreads and crawfish over grits."
Naturally, her lowball meal is a success, with Dufresne ID'ing the bacon, Colicchio promising to return the favor of DeSautel's cooking, Chang labeling the fare "awesome" and Ripert offering praise in French.
But don't let four celebrity chefs fool you. This episode was filled with delicious local favorites beginning with cameos by the wax statue of Ernie K-Doe at his Mother-in-Law Lounge, the Upperline restaurant and Slim Goodies Diner on Magazine Street. Beignets returned, crawfish was shucked and sucked, a taco truck appeared, a second-line barbecue occurred and a request for a Sazerac cocktail was sweetly refused.
And then there's the king cake. When a New Orleans police official asks lawyer Toni Bernette how she always manages to get past the desk sergeant, she smiles and says: "I brought a king cake. If you want a slice, you'd better hustle."
King Cake is a staple of New Orleans Carnival celebrations. It starts 12 days after Christmas and lasts through Mardi Gras Day. Locals only eat this ring-shaped cake stuffed with a plastic baby during Carnival season. But it's available from bakeries like Gambino's year-round.
While getting the baby is good luck, it also means the recipient has to buy the next cake.
Here's a guide to the local products and restaurants in episode five of "Treme":
Big Shot Soda New Orleans' Own Big Shot is made by the National Beverage Corp. Albert Lambreaux drinks a strawberry-flavored Big Shot as he and his daughter lunch on po'boys and Zapp's potato chips. Other flavors include cream soda and pineapple.
Ernie K-Doe's Mother-in-Law Lounge Opened by rhythm and blues singer Ernie K-Doe in the 1990s, this bar on North Claiborne Avenue was completely flooded during Hurricane Katrina. Following his death in 2001, the bar's two big draws were K-Doe's widow, Antoinette, who was happy to tell patrons stories about her late husband, and a wax statue of K-Doe. Antoinette died in 2009 on Mardi Gras day.
Slim Goodies Diner This Magazine Street diner opened in September following the storm.
Upperline This uptown restaurant has been a staple since the early 1980s and is known for its Creole cuisine and art collection. Owner JoAnn Clevenger makes an appearance in this episode of "Treme."