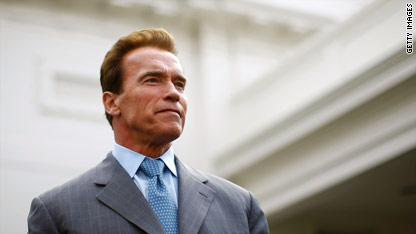 Commencement season is a time of reflection, looking to the future, and in some cases, trying to snag a pic of a star at the podium.
Every year various celebrities are tapped to speak at school graduations and this year is no different.
Around the country, the class of 2010 has been and will be seeing stars.
The list includes:
– California Governor and former movie star Arnold Schwarzenegger at Emory University in Atlanta, Georgia.
– "30 Rock" co-star Alec Baldwin at New York University in New York City.
– Academy Award winning-actress Meryl Streep at Barnard College in New York City.
– "America's favorite dad" Bill Cosby at Shaw University in Raleigh, North Carolina.
– Radio and TV talk show host Glenn Beck at Liberty University in Lynchburg, Virginia.
– Bob Schieffer, who is moderator of  "Face the Nation," at Rochester Institute of Technology in Rochester, New York.
– First Lady of the United States Michelle Obama at the University of Arkansas at Pine Bluff in Pine Bluff, Arkansas and Anacostia High School in Washington, D.C.
– President Barack Obama at Hampton University in Hampton, Virginia, the University of Michigan in Ann Arbor, Michigan, and Kalamazoo Central High School in Kalamazoo, Michigan, which won the Race to Commencement contest with the grand prize of having the president deliver their address.